Details
Set Waders Vision Koski Guiding & Wading Shoes Musta Michelin
Waders Vision Koski Guiding
Koski Guiding waders are made for topless waders who are searching for the perfect tan or who just do not wade that deep. These waist high waders have the same lower part construction as the taller brother. Koski wader is made from soft and comfortable materials. The lower part's thicker material comes up to your thighs, so it makes this wader strong. The water resistant front pocket is made from wader fabric and features water resistant YKK AquaGuard zipper.
-Lightweight 4-layer construction
-Waterproof and breathable F4™ fabric
-Curved NoSeam™ cut for perfect fit
-Adjustable, removable matching colour braces
-Built-in gravel guards with lace hooks
-Neoprene feet with left and right side design
-Belt loops
---
Wading Shoe Vision Musta Michelin
Musta Michelin is a modern, lightweight wading shoe with TPU re-enforced ballistic polyester upper. The TPU print in designed areas give good wear resistance without making the shoe too bulky and heavy. The shoe is easy to get in and it tightens easily. For added strength the stitch lines have their own grooves and the EVA midsole and the front bumper of the Michelin sole are stitched to the shoe's upper. The Michelin sole which we have designed together with the world famous Michelin tire manufacturer offers multiple benefits over many other rubber soles.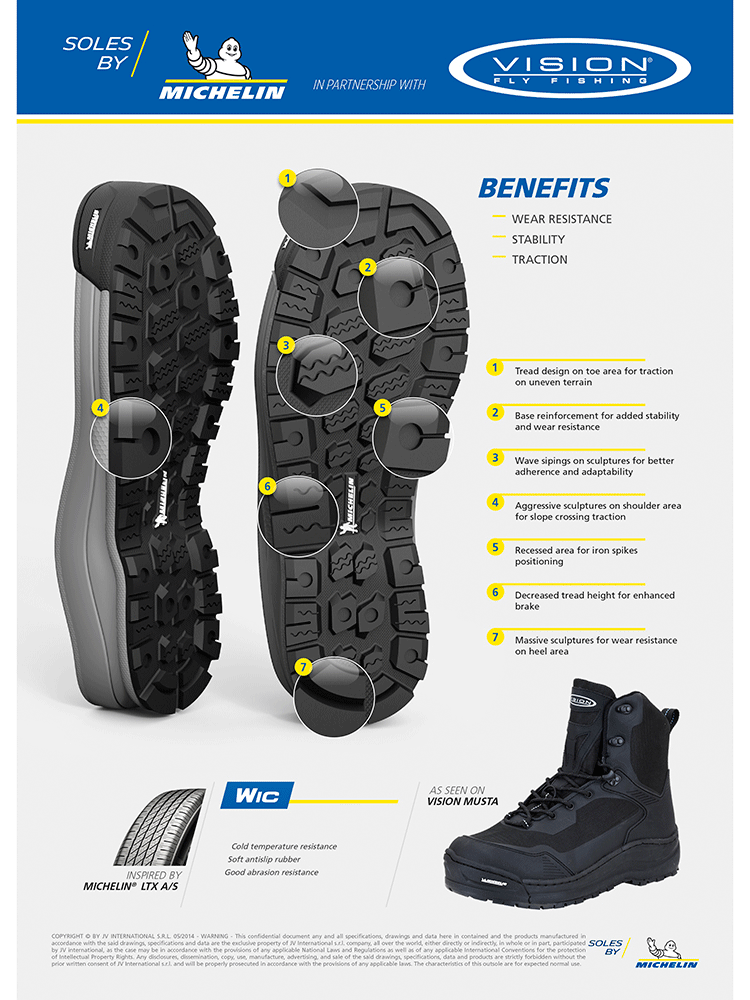 The front bumper is built into the outsole so there's no possibility for them to be separated. The pattern of the sole is inspired by Michelin LTX A/S tire with modifications targeted for wading. The lugs on the sides have aggressive sculptures giving you extra grip for slopes and muddy paths. The lugs in the middle have wave sipings for adherence and adaptability over uneven surface of the rocks.
The front and heel sculptures are designed to take the wear and tear during longer walks and their pattern adds traction when needed. For extremely slippery & slimy conditions we made recessed positions for our Tungsten Carbide studs which can be added if needed. The rubber compound itself is a mixture of an off road and Scandinavian winter tire compounds.
Just like the studless winter tires on snow these soles give you a very good grip on rocks. The more you put pressure on the sole the harder it grips the rock surface, as the soft compound with sipped lugs adapt over the uneven surface. In addition to a better grip the shoe has also a better feel while wading. The soft and well adaptive outsole combined with flexible EVA midsole lets you feel what's under your shoe, but same time it gives enough support even in the hardest of conditions. Longer walks in mind it still rolls comfortably and offers good torsional stiffness. Note: Delivery includes the shoes only. Studs are sold separately and other products shown serve solely illustrative purposes and will not be delivered. Michelin rubber sole with built in rubber bumper for ultimate grip and wear resistance
-Lightweight and strong
-TPU print to add wear resistance
-Stitch grooves for protecting the stitches
-Recessed positions Recessed positions
Delivery without studs
Additional Information
| | |
| --- | --- |
| Delivery Time | No |
| Manufacturer | Vision |
| GTIN - Barcode | 6417512836197 |
You may also be interested in