Tungsten Nymphs Barbless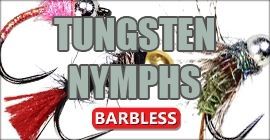 Barbless Tungsten Nymph for fly-fishing!
This barbless nymphs has as head a tungsten-bead and gives additional weight in confront to a normal beadhead nymph. It´s important for fishing on bigger, fast water and reach more deepness for catching bigger fish. Startet years ago from the classic "Goldhead-Tungsten Nymph" we are proudly to introduce a big selection of different types of Tungstennymphs like "Tungsten-Caddis", "Copper Wire" or "Red Tag".
Explore this category and you will find the right Tungsten-Nymph without barb for you.